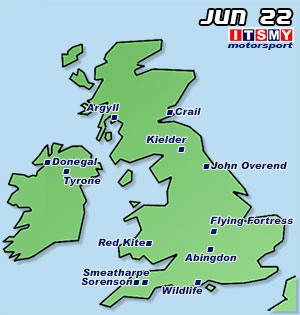 The above map shows Rally events for this month. Please check below for more details and check with event organisers before travelling.
| DATE | RALLY | LOCATION |
| --- | --- | --- |
| 2-5 Th-Su | Rally d'Italia | Sardinia |
| 4 Sa | Tyrone Stages | Cookstown |
| 5 Su | Circuit of Munster | Limerick |
| 5 Su | Wildlife Autosport Stages | Bournemouth |
| 11 Sa | L'Etacq Rally | Jersey |
| 11 Sa | Crail Summer | Crail |
| 11-12 Sa Su | Rally Poland | Poland |
| 12 Su | Abingdon CAR-nival Stages | Abingdon |
| 12 Su | Flying Fortress Stages | Kettering |
| 12 Su | Red Kite Stages - CANCELLED | South Wales |
| 17-19 Fr-Su | Donegal International | Eire |
| 18 Sa | Kielder Forest Rally | Kielder |
| 19 Su | John Overend Memorial Rally | York |
| 23-26 Th-Su | Safari Rally | Kenya |
| 25 Sa | Argyll Rally | Dunoon |
| 26 Su | Carl Sorenson Stages | Cornwall |
EVENTS:

underlined text shows a link to a website or location page

date
name
venue
surface
location
organiser
championships
2-5 Th-Su
Rally d'Italia
multi
gravel
Sardinia
FIA
World Rally Championship
Rally d'Italia takes place in Sardinia, based at Alghero for service and HQ. Dusty, hot, part rough, part smooth but always fast. Round 5 of the World Rally Championship. Thursday shakedown and evening stage. Saturday is 8 stages with no service just tyre zone. A total of 21 stages over 308kms. Also 150km of liaison distance is removed. Power stage is again Sassari-Argentiera.

Event video 2018 (GHrallyemotion)
https://youtu.be/MyZX9L0q4YY
4 Sa
Tyrone Stages Rally
multi
tarmac
Cookstown
Cookstown MC
ANICC Stage Rally Championship
Organised by Cookstown Motor Club the event is a round of the ANICC Rally Championship. The event uses closed roads around Stewartstown. A total of 45 miles over 9 stages (3x3).
Event video 2018 Mad4Tar Motorsport Videos
5 Su
Circuit of Munster
multi
tarmac
Limerick
Limerick MC
Irish National Rally Championship
West Coast Rally Championship
Southern 4 Rally Championship
As a round of the Irish National, West Coast and Southern 4 Rally Championships will be plenty of great tarmac cars on the entry list. The event runs around the tight tarmac lanes of Limerick with rally HQ at the Rathkeale House Hotel. With 120kms of stages running a 3x3 stage format. First car is 0945hrs.
Event video Mad4Tar Motorsport Videos
5 Su
Wildlife Stages
single
tarmac
Burnham on Sea MC
Taunton MC
ASWMC Sealed Stage Rally Championship
ASWMC Sealed Stage Rally Championship
CMSG Stage Rally Championship
The event runs at the Smeatharpe Airfield, Upottery, Devon. It is a round of the ASWMC Stage and CMSG Rally Championship. With a maximum entry of 65 crews there is a good cross-section of clubman cars. There are 36 stage miles over 8 stages. First car is 0912hrs.
Event video 2019: (Motorsport Videos)
11 Sa
L'Etacq Rally
multi
tarmac
Jersey
Jersey Motor Cycle & LCC
11 Sa
Summer Stages Rally
multi
tarmac
Crail raceway
Glenrothes MSC
North of England Tarmacadam Rally Championship
Scottish Tarmack Rally Championship
The event organised by Glenrothes MSC runs at Crail Airfield, Fife. A round of the Scottish Tarmac and North of England Tarmac Rally Championships. 70 miles over 8 special stages. First car 0830hrs.
Event video 2017 Special Stage
11-12 Sa Su
Rally Poland
multi
gravel
Poland
European Rally Championship
Junior European Rally Championship
A European Rally Championship round centred on the town of Mikolajki. There are 14 stages on 188 kms of gravel.
Event video 2018 JakubRally
12 Su
Abingdon CAR-nival Stages
single
tarmac
Abingdon
Oxon
Sutton & Cheam MC
The Abingdon CAR-nival Stages takes place at the old Abingdon airfield outside Oxford. It's a Saturday Sprint and separate Sunday Rally. Both super fast and technical sections are a tough tarmac challenge for the 100 crews. It's a round of the AEMC/ASEMC, ASWMC, Heart of England Championships. 75 miles over 7 stages. First car 0900.
Event video 2018 Nike Walk
12 Su
Flying Fortress Stages
single
mixed
Grafton Underwood
Kettering
Dukeries MC
HRCR Mini Sport Cup Stage Rally Championship
HRCR Old Stager Historic Rally Championship
AEMC Stage Rally Championship
EMAMC Rally Championship
ANEMMC Mixed Surface Stage Rally Championship
Dukeries MC organises the event held at Grafton Underwood, near Kettering. The surface can be interesting with a mix of broken concrete and gravel. A good venue getting better each year. A round of the EMAMC, ANEMMC and AEMC Championships. There is 50 stage miles over 6 stages. One of our club events so there's plenty competing we know and best of luck to them all. First car is 0900hrs.
Entry List
Event video 2018: Stuart Popplewell
12 Su
Red Kite Stages
CANCELLED
multi
gravel
Llandovery
South Wales
Annan & DMC
MSA British Historic Rally Championship
HRCR Stage Masters Challenge
RACRMC Historic Asphalt Championship
Rally2 Championship
Welsh Historic Rally Championship
Welsh National Forest Rally Championship
17-19 Fr-Su
Donegal International Rally
multi
tarmac
Donegal
Donegal MC
Irish Tarmac Rally Championship
Irish Tarmac Historic Rally Championship
Irish Tarmac Modified Championship
Irish Tarmac Junior Championship
The Donegal International Rally is another great Irish tarmac event running around the tight lanes of Donegal. As a round of the Irish Tarmac Rally Championship you can see the very best Irish drivers and cars. There are 300kms over 20 special stages on this three day event.

2019 sees Craig Breen and Paul Nagle in a Fiesta WRC
Entry list
Event video 2018 Flyin Finn Motorsport
18 Sa
Kielder Forest Rally
multi
gravel
Kielder
BTRDA Gold Star
BTRDA Bronze Star 1400 Championship
BTRDA Historic Cup
BTRDA Junior R2 1600 Cup
BTRDA Production Cup
BTRDA Rally First
BTRDA Rallye R2 Cup
BTRDA Rallye R5 Cup
BTRDA Silver Star
English Rally Championship
Northern Historic Gravel Championship
ANECCC Stage Rally Championship
Hexham based so midway between Newcastle and Carlisle, HQ is at the Auction Mart. The BTRDA round is joined by the English Rally Championship. 45miles over 6 stages (3x2 format) with a maximum entry of 120 cars.
19 Su
John Overend Memorial Rally
single
mixed
Melbourne Airfield
York
North Humberside MC
ANWCC Stage Rally Championship
F1000: Stage Rally Challenge
F1000: Junior 1000 Rally Championship
York's Melbourne Raceway is the location for this single venue rally. A varied surface improved a little each year. 6 stages at 45 stage miles. First car 0857hrs.
Event Timing / Results:
Event video 2017 (Don Bramfoot)
23-26 Th-Su
Safari Rally Kenya

multi
gravel
Nairobi, Kenya
World Rally Championship
Back on the calendar after a great event in 2021. Not quite the challenging conditions of years past but it's still very entertaining. Based in Nairobi it is round six of the WRC.
Event video 2021 fia-wrc
24-25 Sa Su
Argyll Rally
multi
tarmac
Dunoon
Mull CC
Motorsport UK Asphalt Rally Championship
Scottish Rally Championship
North of England Tarmacadam Rally Championship
SD34 MSG Stage Rally Championship
Mull Car Club organise Dunoon based event. Service is at Dunoon Stadium. It is a round of the Scottish Rally Championship, Ecosse Challenge and more. There are 62 gravel stage miles over 13 stages. First car 1800hrs 24th & 0900 25th.
Event video 2018 (scottishrallytv)
26 Su
Carl Sorenson Stages
single
tarmac
RAF Portreath
Cornwall
South Hams MC
ASWMC Stage Rally Championship
9 stages totalling 55+ miles all within RAF Portreath. Maximum 60 cars.