phil hall - professional rally co-driver

Phil Hall is a professional rally co-driver and navigator.
He has worked all over the world guiding professional drivers from Rally America to the Asia Pacific Championship.
Phil currently sits with Tom Williams competing in the Junior World Rally Championship.

2019 sees Phil with his regualr J-WRC commitment and should see visits to other parts of the globe. This page will post updates as Phil and his media colleagues release them.
2020 March 24
Hall becomes Royal Air Force Central Fund ambassador

World Rally Championship co-driver Phil Hall will continue to build on his sporting relationship with the Royal Air Force in 2020 as he becomes an ambassador for their independent charity, the RAF Central Fund.

Hall, a Royal Air Force Reservist himself, has been competing at a World Rally Championship level since 2015, gaining recognition from the RAF for his activities in top-level sport. In 2019, the Mansfield based ace entered into a unique collaboration with the service which saw fellow RAF Reservists experience life in one of the most demanding motorsport championships in the world. Hall along with his colleagues from the WRC were put through their paces by a series of challenges set by the RAF.

This season, Hall is set to become a key ambassador for the RAF Central Fund, a charity which supports serving RAF personnel, enabling them to take part in sports and physical activities at all levels, regardless of role, rank, or physical ability. The charity's funding streams facilitate the use of sports facilities, equipment, and physical training and provide support to safeguard both RAF Regulars and Reservists health and wellbeing.
The principal fundraising tool of the Fund is the renowned RAF Sports Lottery, which offers entrants the chance to win up to £10,000 each week. Hall, a player of the lottery himself is delighted to be representing one of the official RAF charities through his activities as a professional sportsperson.

"It's a prestigious honour and opportunity to represent the RAF Central Fund in 2020," he says.

"Without the Royal Air Force, I would not be in the incredible position I am today, competing at the top level of rallying and now I`ll be able to put something back into the charity which has so actively supported me throughout my co-driving career. It would be great to think that I can also inspire other members of the RAF to get more involved in sport, no matter what level or discipline."

The 30-year-old from Nottinghamshire will be taking time out of his co-driving calendar to spend time with RAF personnel who have expressed an interest in taking up or progressing in their chosen sport.

"I'm excited to be visiting RAF Stations and Squadrons around the UK to talk about my sporting experiences within the Force and how that has helped me progress onto the world stage" he continues.

"Hopefully along the way it will generate further interest in the RAF Central Fund and the RAF Sports Lottery and highlight just how vital the role they play is in the progression of servicemen and women in sport."

Ross Perriam, CEO of the RAF Central Fund, expresses his charity's delight in having Hall join their team of ambassadors.

"Our charity exists to support all serving personnel throughout their careers, whether they are regulars or reservists," says Perriam.

"Corporal Hall personifies that, having benefited from our support both as a regular when he first joined the RAF and now as a reservist. It is great that he is choosing to give something back and highlighting to his fellow servicemen and women the benefits of participating in sport and how as a charity the Central Fund can help them achieve their goals."

Hall is currently working behind the scenes on his 2020 co-driving plans with an announcement due in the forthcoming months

Hall is partnered by www.itsmymotorsport.co.uk and the Royal Air Force in 2020.
Phil on Notts TV
Talking about his 2019 journey in WRC and J-WRC. Now it's time for a change,

"It's time for a new era to begin.

I'm starting the next chapter in my #Rally career.

Thank you so much to Tom Williams Rallying for a fantastic 3 years, it's been an absolute pleasure to sit beside you on some incredible rallies. From the toughest challenge ever at Rally Mexico to our successes at Wales Rally GB, it's all been brilliant. All the best for next year and the future.

As always I hugely appreciate the ongoing support of the Royal Air Force,my sponsors Its My Motorsport, and my family and friends".
Hall rounds-off season with Royal Air Force Rally Championship title

World Rally Championship co-driver Phil Hall ensured he ended his 2019 competitive season on a high, by winning the Royal Air Rally Championship thanks to a last-minute seat alongside Ross Leach at the Hall Trophy Rally.

Hall, 30 from Mansfield near Nottingham secured the hard-fought domestic title after a buoyant season in the Junior World Rally Championship, made even more poignant thanks to this season's unique collaboration with the Royal Air Force during his World Championship campaign.

His result, on the only mandatory round of the series, was enough to hand him the honour despite being a far cry from the gruelling WRC rounds he has endured this season.

Hall is often regarded as one of the leading new-generation British co-drivers and entered his fourth full season in the WRC in 2019 after making his debut at Rally Australia in 2015.
He embarked on his inaugural WRC programme in 2016 in the Drive DMACK Trophy and would spend 2017 on a whirlwind tour of the world, co-driving for a variety of rapid youngsters. He would join Briton Tom Williams at Rally Finland that year, forging a partnership that saw the duo contest the Junior WRC together ever since.

His WRC campaign also drew significant interest from the Royal Air Force and as a Reservist himself, was able to enter into a unique programme which saw fellow Reservist's experience life in one of the most demanding motorsport championships on the planet, whilst Hall and his colleagues from the World Championship were put through their paces by a series of challenges set by the RAF.

RAF Reservists from a range of trades headed to Rally Sardinia, Rally Finland, and the Wales Rally GB, visiting Hall and the M-Sport rally team to sample life in different WRC roles.

Hall's season in the Junior WRC has seen him secure 9th in the championship but he has also enjoyed other high-profile outings during the year. Former WRC co-driver Nicky Grist enlisted Hall's skills in the ex-works Toyota Celica at the Eifel Rallye Festival in the summer thanks to a break in his WRC programme.

The Royal Air Force Championship offers the opportunity to nominate rounds to score points which led to Hall only needing a solid score at the mandatory final round of the season to seal the title, which he did in style, ending his season on a positive note.

"It's most certainly been a tough season in the Junior WRC but securing the Royal Air Force Rally Championship was important for me to do this year, thanks so much to Ross for stepping up at the last minute and delivering a fantastic drive" said Hall.

"RAF Rallying holds a very close place to my heart and of course they have been alongside me in every part of my WRC journey this season, so it was a really nice way to end the year with my name on the RAF Championship trophy".

Hall is currently evaluating plans for the forthcoming year.

"The title is a nice one for the CV but undoubtedly my focus has been for some time on what 2020 and beyond holds for me. I certainly won't be standing still that's for sure and I have several opportunities to explore over the winter. It looks like another busy year ahead".



Back in a Toyota!

Seat fitting today in a very, very special car.

Next event is Eifel Rallye Festival, where I'm co-driving for Nicky Grist... no pressure there then.


(What does Its My Motorsports Phil Hall get up to when there's a break in WRC? Well he gets a seat fitting ready for the the Eiffel Rally when he will be guiding Nicky Grist.

A very special ST185 owned and restored to this beautiful condition by Nicky. Among their rallies Nicky navigating for Juha Kankkunen, won Rally Portugal in 1994 in this very Toyota).
British rally co-driver Phil Hall has united with the Royal Air Force Reserves for the remainder of his 2019 Junior World FIA Junior World Rally Championship (JWRC) co-driver Phil Hall was on-track to secure a solid finish at Rally Italia Sardegna (13-16 June), before a cruel twist of fate meant he would be forced out of the event, almost within sight of the finish ramp.

Hall had guided Tom Williams through three days of gruelling, rough and rocky stages, powering their M-Sport Ford Fiesta MK8 R2T through 300km of arduous terrain across the Sardinian mountains, battling ten other JWRC crews for top honours.

After suffering two punctures and unprecedented road conditions, Hall was just a handful of miles from the finish of the final stage when a large rock pierced the sump pan of the Ford. Despite a heroic effort and temporary fix, it would not be enough to make the finish ramp and Hall was forced to record his first non-finish on his JWRC scorecard this year.

Despite not contesting Rally Sardinia previously, the itsmymotorsport.com backed co-driver would head to round three of the JWRC in the knowledge that it would prove to be one of the toughest tests of the five-round calendar.

Searing heat and very rough road conditions would make going very difficult for the Junior crews and simply making it to the end of the gruelling event would be a feat in its own right. With stages offering a wide mix of technical and super-fast sections, it would prove to be a demanding event for co-drivers as well as their pilots.

Heading into the final stage of the 19 test event, Hall would be on-course for more points in his JWRC campaign. However a rock would cause the loss of all the engine oil and despite best efforts, the British crew would not make the finish.

"We did everything we could out there today but it just wasn't to be," said Hall

"We took off the sump guard and made a temporary repair using items from our medical kit, some radiator putty we carry in the car, and anything else we could find. That actually worked for a while but it started leaking on the way to the finish ramp and when we ran out of oil altogether, it was game over".

"It's devastating but I'm really proud of the way we managed the situation. The determination we both had to make it to the finish was great and if anything we can really learn from this experience. The whole rally has been amazingly tough, both physically and mentally but I felt very prepared for it and that's important when you are competing at this level."

The 30-year-old from Mansfield near Nottingham has enjoyed a busy season both in and out of the JWRC, recently announcing a new collaboration with the Royal Air Force Reserves which will see Reservist's sample life in the World Rally Championship.

In contrast, rally team members will sample life in the RAF, each obtaining a taste of the different trades that are available to the Reserves. The programme kicked off in Sardinia with members of 611 Squadron visiting the M-Sport World Rally Team and JWRC team as well as watching the action unfold on the stages.

There were plenty of positives to take away from the weekend.

"It was great to have 611 Squadron along to Sardina with me and sample just how tough it can be in the World Championship.

They sampled life in the M-Sport Ford World Rally Team and Junior WRC services areas and even got to sit in a Fiesta R5. Watching out on the stages was a great experience too and I have to say thank you to M-Sport for making the first visit such a great success. I look forward to welcoming the next team to Rally Finland in August".

Image credit: M-Sport/JWRC





British rally co-driver Phil Hall has united with the Royal Air Force Reserves for the remainder of his 2019 Junior World Rally Championship (JWRC) campaign with a unique venture which will launch at the forthcoming Rally Italia Sardega (13-16 June).

A collaboration will see RAF Reservists experience life in one of the most demanding motorsport championships on the planet, whilst Phil and his colleagues from the World Championship will be put through their paces by a series of challenges set by the RAF.

RAF Reservists from a range of trades will travel to Rally Sardinia, Rally Finland, and the JWRC finale at Wales Rally GB, visiting Hall and the M-Sport rally team who are responsible for running the Ford Fiesta MK8 R2T's in the series. They will delve inside life in the WRC, meeting team members, observing the dedication required and gain a full understanding of the roles that are needed to compete at the pinnacle of the sport.

In between each event, Hall and the team will have a number of exciting opportunities to mirror the Reservists experience and sample life in the RAF, obtaining a taste of the different trades that are available to the Reserves.

Hall, 30 from Mansfield near Nottingham is often regarded as one of the leading new-generation British co-drivers, and in 2019 has embarked upon his fourth full season in the World Rally Championship after making his WRC event debut at Rally Australia in 2015. Returning to contest the JWRC for a second year in succession, Hall and driver Tom Williams have enjoyed an impressive start to the season, currently lying sixth overall in the championship.

Previously a full-time serviceman, Hall left the RAF in 2015 to pursue a full-time professional rallying career but returned as a Reservist in 2017 and was once again able to wear the iconic RAF livery that launched his career.

He is delighted to be embarking on a new initiative with the Royal Air Force within the sport of rallying and believes there are many symmetries between the two.

"This new project between myself and the RAF is a very exciting time and will give my Reservist colleagues a great insight into just what is required to be a successful rally team at this level. I think there will be some aspects that they won't expect; but teamwork, dedication and a never give up attitude will be very familiar to them.

I really can't wait to get stuck into the other side of the venture and the challenges they are going to set for me. Although I'm not quite sure what they have lined up yet, it's sure to be an interesting encounter."
Phil went for a chat with Nicky Grist. Nicky continues to provide guidance and of course some very nice buts of kit.

You can read more on Nicky's blog here .
The fans at @rallymobilchile were incredible. So passionate about the event and very welcoming! Can't wait to go back!

#wrclive #wrc #rally #adventure #chile #travel #globetrotter #fans
In Chile working at the WRC although not co-driving for this new round of the Championship

#Chile you are incredible
#wrclive M-Sport FIA Junior WRC WRC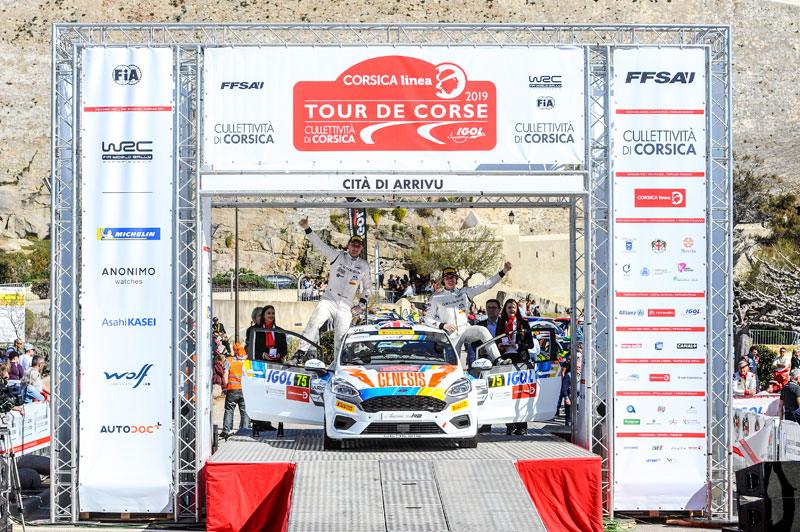 Tour de Corse lived up to its reputation as one of the toughest co-driver challenges of the World Rally Championship last weekend (28-31 March), as Phil Hall guided fellow Brit Tom Williams to a confidence-boosting fifth place in the Junior WRC category of the event.

The Mansfield based co-driver would head to the Corsican island for the third time and was well aware of the task ahead during the weekend as the fourteen stages would have more pacenote calls than any other in the series.

After a career-best fourth place at the opening Rally Sweden last month, Hall would be looking to continue his impressive start to the season as 17 identical M-Sport Ford Fiesta R2's would go head to head across the winding Mediterranean roads on the first Tarmac test of the year.

Stages on Tour de Corse are iconic for their super-fast main roads which hug the ragged rock faces of the island, bolstered by cliff edge drops on the other. Precision is key and whilst the pace notes are always essential to strong stage times, never more so is that more important than in Corsica.

Whilst the opening day was not the longest, it was arguably the hardest on the event thanks to the six stages all taking place without a mid-day service. Tyre conservation would be critical and Hall was eager to acclimatise to the unique roads and settle into a positive rhythm for the day. Some strong stage times throughout the loop and a trouble-free run saw Hall climb to fourth place during the leg, although fifth would be the result at the end of the day.

Day two was the longest of the rally with 175km on offer, mainly due to the mind-blowing 47km Castagniccia test which would be tackled twice. A puncture early on hampered progress but Hall's challenge would certainly be the longest stage of the rally as he would need to deliver second-perfect notes for almost 35 minutes non-stop. The RAF Reservist's previous experience on the island helped, and he guided Williams back to the overnight halt still in a worthy fifth spot.

Just two stages remained on Sunday and another trouble-free blast saw Hall secure another impressive result to head into round three of the series in sixth place in the championship.

"Corsica certainly lived up to its reputation this year and as you start to climb the rallying ladder and become faster, the challenge increases as well which makes this result so very rewarding," said Hall.

"Tom drove really well this weekend and we had a great harmony in the car. On stages like this, you really need dedication from both sides of the car and it all seemed to gel. It was an immense challenge though with the highlight most certainly the 47km of the Castagniccia stage. It offered insane levels of note reading which is unrivalled really. It was most certainly a tough but thrilling rally which delivers one of the biggest challenges a co-driver can endure but I loved every second of it".

Hall will now head straight from Corsica to tackle his next adventure as he will make the trip to Asia, supporting a long-time mountaineering partner in his expedition to the peak of Mount Everest. Hall will climb to the base camp which is cited at a mind-blowing 18,000ft.
Phil Hall will take on two of the toughest challenges of his career in the next fortnight, as the Junior World Rally Championship (JWRC) co-driver takes on the legendary Tour de Corse (28-31 March), before climbing up to the Mount Everest base camp at a lung-bursting 18,000ft, just a week later.

Hall, from Mansfield will be contesting round two of the prestigious JWRC alongside fellow Brit Tom Williams and the duo will be aiming to build on their career-best fourth place at Rally Sweden last month. Hall will enjoy his third stab at the Mediterranean island event and cites the rally as "his favourite" in the WRC calendar.

However, as soon as the rally finishes, Hall will embark on a further trip half way across the world to Earth's highest mountain above sea level, Mount Everest. Located in the Himalayas on the international border between Nepal and China, Hall will climb to the Nepalese base camp and although he won't attempt the summit, will still push himself to the limit on his trip to the "roof of the world".

The 30-year-old RAF Reservist is enjoying his fourth season in the WRC, second in the JWRC and has had an almost dream start to his 2019 campaign. Despite the difficult conditions in Sweden as higher ambient temperatures turned the traditional snow to slush and mud, Hall would guide Williams to his maiden top-three JWRC stage time on their way to fourth place.

The five-round series now turns to the iconic island of Corsica and marks the switch to asphalt. Sheer rock faces and huge cliff edge drops are coupled with tight and twisty roads through villages on the rally and with almost 350 kilometres of flat out action ahead, it is one of the toughest in the calendar.

But Hall cites the event as one of the best in the series and is looking forward to whatever the rally can throw at the itsmymotorsport.co.uk backed co-driver.

"This is one of the most challenging rallies I've ever contested and although its hard for a driver, this rally takes the co-driver's seat to another level" he says.

"The nature of the roads and the detail required in the notes means I have to be absolutely perfect with every note delivery. Doing that for three days solid requires plenty of stamina and concentration but its immensely rewarding. I need to be at the top of my game to guide Tom to another top finish and that is certainly the game plan. It's another difficult rally for tyres so I`ll need to help manage those as well but my previous experiences on the vent will help that".

Hall will see snow in the next two weeks, but on Mount Everest rather than Rally Sweden.

As soon as the rally is over, Hall will make the trip to Asia and Mount Everest, supporting a long-time mountaineering partner in his expedition to the peak. Despite the logistics, its an opportunity too good to miss.

"Extreme adventure is a passion of mine and this is a huge opportunity for me" says Hall.

"It will also further my fitness training which I am always keen to enhance and having some high-altitude training is a rare opportunity. It's certainly an exciting chance to further my mountain experience and maybe one day I can come back and make an attempt on the summit of the world myself. It's going to be a busy month that's for sure".

Tour de Corse starts on Friday with two loops of three stages and no opportunity for service, is followed by a long journey north to overnight in Bastia. Saturday contains over half of the total event mileage with Sunday offering just two tests to round off the event near Calvi.
You can never have too much time in the co-drivers seat!

Hopefully not quite the conditions we can expect at Tour de Corse next week but always good to get yourself dialled in.

Nice test with Tom Williams Rallying and the EDSL Sport crew yesterday
Great to be back at Notts TV this week with the #SportsWeek gang as I talk about my epic Rally Sweden FIA Junior WRC result alongside Tom Williams Rallying and look ahead to Tour de Corse at the end of the month.

Phil was on Notts TV on Wednesday 13th March.

Phil left the RAF to start his professional career as a co-driver but continues in the RAF Reserve. As the RAF say, No Ordinary Job.
Just about landed back down on earth from the weekend (and this jump) after taking the best FIA Junior WRC result of my career at Rally Sweden.

A really tough event by all accounts and fourth place is the perfect start to the #JuniorWRC season for Tom Williams Rallying and I. Round 2, Tour de Corse can't come soon enough
Doesn't get much better than this.

Rally Sweden - recce day 2

Despite just four stages to cover today, its been a busy afternoon with #JWRC duties ahead of tomorrow's opening super special.
Rally Sweden recce day 1

Today was all about the stages North of the service park with tomorrow, perhaps predictably, in the south. Loving the classic Swedish stages and working hard in the car to fine tune our notes.